Friday, August 22, 2014
ChartAcc.com
-
ICAI declared result for CA IPCC.. We wish them a great luck for their brightest career ahead.
1st rank holder with 568 marks - 81.14% -
Geethika Haridas (Bangalore) - (Detailed marks here)
2nd rank holder with 566 marks - 80.86% –
Gaurav Anand (Secunderabad)
3rd rank holder with 565 marks - 80.71% -
Agathiswaran S (Vellore)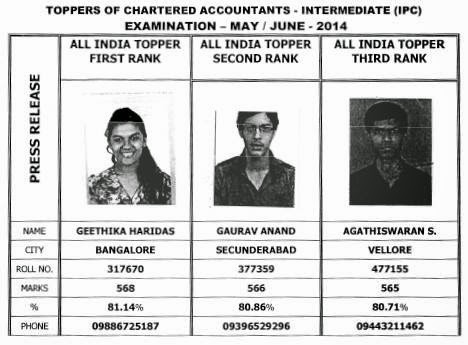 CAIPCC Toppers ICAI May June 2014 GeethikaHaridas GauravAnand Agathiswaran ChartAcc RankHolder
Click here to check Pass percentage of CA IPCC.
Click here to check Detailed marks of Topper of CA IPCC
Stay connected to
ChartAcc
, a professional ShareSpace.